Something really exciting is going to happen in my family in two weeks time, can you guess? Take a preview by looking at the manner in which women have dressed for this moment since the 15th C. until now.
" The Arnolfini Wedding" Jan Van Eyck, 1434, Belgium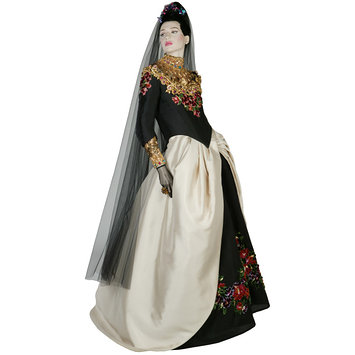 "Qui a le droit"
Black Wedding Dress
1992, Paris
Christian Lacroix
Victoria & Albert

Hopefully during the first part of September I can send you pictures of the dress my daughter has designed, made and worn. My mind is bumping around from normal daily activities, to being filled with anticipation. Whew! maybe some yoga meditation is in order if only I could hold my flitting mind open. Mean while keep tuning in as I try to remember to write here and not be busily off on my upcoming family adventures.
Did you notice the variety of color as well as form for these dresses?
Just a note on Van Eyck's famous wedding picture entitled "The Arnolfini Wedding"- I had always believed that Mrs. Arnolfini was pregnant in this picture but I found out while researching this that she is merely holding her dress in front of her belly as was the custom of the time.